Mein Muster Trio wurde diese Woche als Teil der Diva Challenge gewählt. Laura Harms (CZT), die Frau und  hinter der Diva Challenge stellt jede Woche eine neue Aufgabe, um Tangler auf der ganzen Welt herauszufordern, ein Tile aus den gleichen Mustern zu machen. Wie unterschiedlich die Resultate jedes mal ausfallen, ist verblüffend! Aus zeitlichen Gründen habe ich es bisher immer unterlassen mitzumachen, dieses mal aber MUSSTE ich die Herausforderung einfach annehmen! Es sollen also diese Woche die drei Muster TRIO, HUGGINS und XYP in einem Tile verwendet werden.

Mein erster Versuch auf einem klassischen Tile gefiel mir nicht, alles wirkt zu eng und das Papier zu kleine. Trio braucht Platz und ruft nach Rundungen, also entschied ich mich für den 2. Versuch ein Zendala zu wählen. Das gefällt mir nun doch wesentlich besser! Spass hat's auch gemacht, vielleicht werde ich künftig doch ab und zu mal teilnehmen an Laura's Herausforderung....!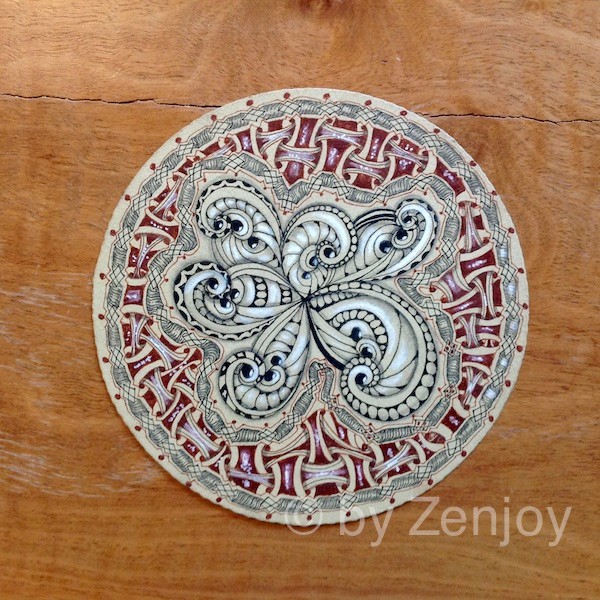 I usually don't do the Diva Challenge - just because I don't have the time. But this week I HAD TO take it, because Holly chose my pattern Trio to be part of the Challenge. First I started off with a classic tile in white, but I didn't like the result too much, because it feels like Trio doesn't breath in there, it's so crowded and tight. So I decided to give it another try with a Zendala. I picked a Renaissance Tile, just because I can. ;0) That feels much better now! 
...and this was the first attempt:
...und das war der 1. Versuch: