In diesem schönen Sommer hat sich ein Muster in meine Tiles geschlichen, das ich erst gar nicht als solches gesehen habe. Ich habe eine Art kleines Flux gezeichnet und einfach Linien drangefügt. Das hat mir richtig Spass gemacht, so dass ich nicht mehr damit aufhören konnte. Also habe ich schliesslich beschlossen, dieses Gebilde zu taufen und einen Stepout dafür zu zeichnen. Die Linien erinnern mich an den "Flow" eines Flusses, oder den "Flow" den ich beim Zeichnen erlebe. So kam ich auf den Wortmix von Flow und Leafes (die kleinen Blätter auf englisch), das gibt zusammen Fleafes, das gefiel mir noch nicht so ganz, also habe ich Fleavy draus gemacht, das mich auch optisch mehr anspricht, weil das y am Schluss noch ein bisschen Leichtigkeit hinzufügt, die ich auch beim Anblick des Musters empfinde.

Susanne (eine routinierte und passionierte Tanglerin) hat das Muster hier wunderschön umgesetzt und mit den Mustern "Marasu" und "Beadlines" kombiniert. Danke Susanne für die schönen Beispielbilder!

This beautiful summer, a pattern has sneaked into my Tiles, I have not even seen as such first. I have drawn a sort of small Flux and simply added lines to these. That was a lot of fun, so I could not stop it. Finally I decided that this Flux-Variation deserves a name and I drew a step out for it. The lines remind me of the "flow" of a river, or the "Flow" I experience when drawing. So I came up with the word mix of Flow and Leafes, what together would be "Fleafes" which I didn't like completely, so I've made "Fleavy" of it. This looks better to me visually, maybe because the "y" at the end adds a little lightness to it, that I also feel when I look at the pattern.
Susanne (an experienced and passionate tangler) has implemented the pattern beautifuly here and combined it with the patterns "Marasu" and "Beadlines". Thank you Susanne for sharing your beautiful pictures!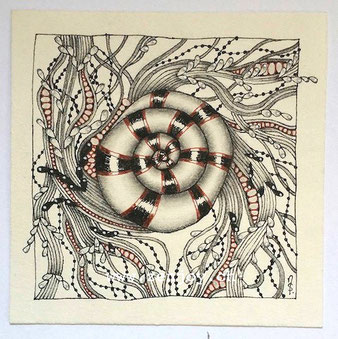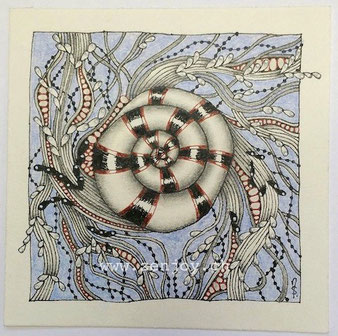 Und hier nun der Stepout dazu, viel Spass damit! :-)

And here comes the Step out, have fun with it!